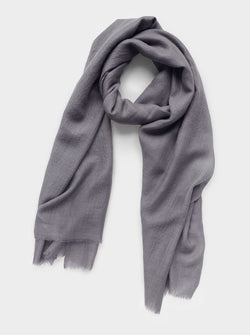 how to wear it
The purest cashmere
Treat yourself with the 100% purest cashmere shawl made by the finest wool from Ladakh, India. Wear it like a scarf or a shawl, we sure your neck will thank us.
The most ethical cashmere Tired of counterfeits and duplicate cashmere products? We are bringing you the most ethical cashmere shawl straight from the Changthangi goat herders from Ladakh, India - home to the best quality pashmina/ cashmere fibre. Now you can proudly own a Cashmere scarf that is 100% pure, luxurious, authentic and affordable.

Luxuriously soft We promise you this shawl would be the softest shawl you would have ever touched. Spoil your neck with this pristine and pure shawl which can be your daily companion or a special occasion friend. 
Handmade by artisans Each and every piece is meticulously handmade using handspun pashmina yarn by artisans from the Himalayas using traditional weaving techniques. These shawls are made in small artisan communities and in just the required quantities, keeping in mind the well-being of the Changthangi goats and our mother earth. This one-of-it's kind shawl is a piece of heritage.
Fairly priced Working directly with artisans and goat herders helps us bring purest form of cashmere shawl at a price that is fair and affordable. No middle men, no contractors, we ensure our makers get fairly paid and that we can bring the best cashmere shawl for our Fifth Origins community.
 Scarf size Looking for a smaller size scarf? No problem, we have this collection as bandana scarf - 75cm by 75cm which is ideal for women, men, girls and boys.
 Shop -  Pure cashmere bandana scarf 
Check out our Cashmere collection - Click HERE
Material
Made using 100% pure pashmina yarns ethically sourced from Ladakh, India (home to finest quality pashmina/ cashmere).
Size - 75cm by 210cm (for our shawls)
           75cm by 75cm (for bandana scarf)
These shawls and bandana scarves are unisex.
Caring for your Cashmere- You will receive your luxuriously soft cashmere shawl in a cotton dust bag. Please use your shawl/bandana scarf with love and care. If it needs to be washed you can just dip the shawl in cold water and lay in flat to dry. 
When not in use you can store your shawl/bandana scarf in the cotton dust bag. This dust bag can easily fit in your handbag, so your favourite shawl/bandana scarf can go places.
The most ethical cashmere shawls and bandana scarves are made by small artisan communities from Ladakh, India and Himachal Pradesh. We work directly with the Changthangi goat herders from Ladakh to ethically source the pashmina fibre. This is then carefully processed by a small group of artisans in the Himalayas, who are experts in converting them into high quality yarns that can be woven.
Each shawl and bandana scarf is then individually handmade by artisans on a traditional loom using highest quality pashmina yarn. We make these shawls ans scarves in small quantities to ensure the well being of the Changthangi goats, the changpa tribe and our mother earth. Your conscious choice supports these small artisan communities and our mother nature.
how to wear it
handmade by 8 artisans in Ladakh, India