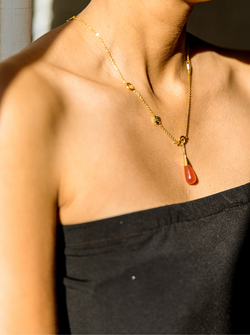 how to wear it
infinity gemstone necklace
The most versatile necklace
Get creative and style this necklace with natures gemstones with as many ways you want. Shipped in 1 to 2 weeks
Meet the most versatile necklace and style in infinite ways. Made from 100% recycled brass and coated with 18K gold plating, this necklace can be worn with or without the gemstone hangers. The necklace itself can be worn mid-length or long and when you add gemstones you can style it in as many ways you like. Choose more hanger by clicking on the specific option of the gemstones. Shipped in 1 to 2 weeks.

How to order and combine necklace and gemstones :
Gemstone + Necklace - Choose the gemstone first (Carnelian, Aqua Chalcedony, Amethyst, Rose Quartz)  and then choose the next option "with necklace".
Only Gemstones or More Gemstones - If you would like to buy only gemstones or add more gemstones to your cart, choose your gemstone(s) and choose the option "without necklace".
Only Necklace - If you would like to buy only the necklace please choose the option "no stone" and choose the option "with necklace".
Necklace is made from 100% recycled brass. Gemstones are ethically sourced from a certified group and then polished for the drop effect. Necklace size – Total open length is 64cm, Mid length – 32cm. How to care – As it is made from 100% recycled, we recommend it to be kept in the box it comes with when not in use. Please keep it away from moisture and water. Gemstones will be packed in small, recycled cotton pouch and can be stored in this pouch when not in use.
These stunning necklaces and gemstones are made by talented artisans from a village called Chandpole in Jaipur. 
This artisan group has been experts in handcrafting jewellery for 5 generations.
Each piece of the necklace is meticulously polished by goldsmith and the uncut gemstones are polished to give it a drop effect. A team of 5 artisans have come together to bring this one-of-its-kind versatile necklace to you all the way from the Pink city, Jaipur, India .
how to wear it
handcrafted by expert artisans from Jaipur, India