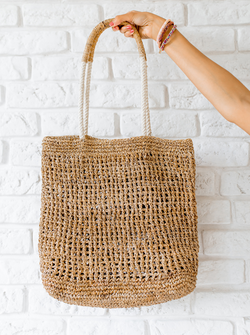 nature shoppers' tote bag
A nature tote
A tote bag that is 100% plastic-free and 100% bio-degradable made by one of the strongest fibres in the world - from Banana tree. Plus it's hand crocheted by women artisans. This is a must have! Made to Order.Shipped in 10 to 15 days.
A shopper tote bag made from Banana tree! How cool is that. Our nature shopper bags are made from Banana fibre and hand crocheted by talented women artisans from the South of India.
Banana fibre is one of world's strongest natural fibre and is 100% bio-degradable. We have used the techniques of crochet and macrame for our first two designs in this collection. 
It's cool, it's handmade, it's plastic-free and it's 100% natural and vegan - what else can one ask for!
Made to Order. Shipped in 10 to 15 days.
Material
Our totes are made from 100% banana fibre - so completely natural and bio-degradable.
Size
Bag - 41 x 38 cm or 16.1 x 14.9 inches
Handle - 27cm or 10.6 inches
Caring for your nature tote. - Just love it the way you would love your best friend. 
These stunning products are made by talented artisans from a village called Anegundi in south of India. 
The motto of our the trust we are working with is "Empowerment through Conservation" . An initiative started back in 1998, they have successfully created livelihood opportunities for women, based on the natural ecology of the region.
Blending locally available materials and skills that could be strengthened this group developed a range of 'banana fibre products', today this unit has grown from its original group of 8 women, to supporting the livelihoods of around 150-200 women.
handmade made by women artisans in Hampi, India