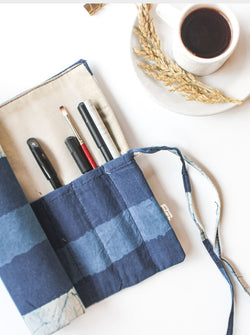 100% sustainable organiser
For your makeup brushes or paint brushes or wooden sustainable cutlery - perfect for on the go!
Brand - Ekatra India
Makeup brushes, Paint Brushes, sustainable cutlery for travel...these need to be stored in an accessible way and need to be care for, right? So here is a way to keep it safe and which is also easy to use and carry wherever you go.
Soft fabric allows you to roll it easily, and when folded it's easy to just store it in your daily bag/purse or suitcase when you go out or travel.
100% sustainable and handmade.
This product is made in collaboration with a sustainable brand, Ekatra from India. We wanted to bring you the best of different categories, so we have collaborated with the best brand in the space of handmade stationary.
Ekatra is run by mother-daughter duo in a small town called Kota, Rajasthan, India. They work with women artisans from small villages to make their products thereby empowering women and making them financially independent.